Upper Eyelid Surgery Singapore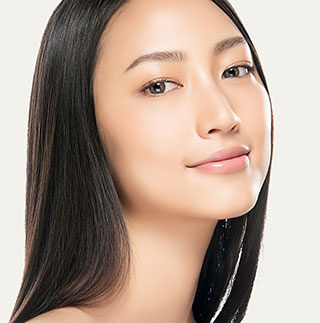 Why Choose Astrid for Upper Eyelid Surgery
At Astrid, we are renowned for our scarless and lasting suture double eyelid surgery technique, making it a signature treatment at our clinic.
Our scarless ptosis correction technique gives an eye lift without the scars of traditional ptosis surgery.
We're well versed in Korean techniques while following local safety standards.
Our fine and delicate approach means less discomfort and downtime.
Upper eyelid surgery ranks amongst the top procedures done in our clinic. Also known as upper blepharoplasty or double eyelid surgery, this surgery creates defined double eyelid folds for those with monolids or hooded eyelids, which also gives the eyelids a more lifted and brighter look.
This process typically considers the connection between the upper eyelids, brow and forehead to achieve a balanced result. In some cases, upper eyelid enhancement may also involve procedures to increase the eyelid's volume (through periorbital fat grafting) or to adjust the eyebrow's position (through browpexy). Our team will conduct a comprehensive evaluation and customise the procedures to meet your specific needs and desires.
Types of Upper Eyelid Surgery
Sub-brow Excision

Subbrow excision is a surgical procedure used to enhance the appearance of the upper eyelids by removing excess skin and tissue from the area just below the eyebrow. It is particularly useful for patients who have a significant amount of excess skin or tissue in the upper eyelid, making the eyes appear tired or aged. This technique is designed to restore a youthful and aesthetically pleasing double eyelid fold.


Anaesthesia
Local anaesthesia

Hospitalisation
Day Surgery

Suture Upper Blepharoplasty (SUB)

At Astrid, our unique scarless suture double eyelid surgery "weaves" double eyelid folds that are not only natural, but also more lasting than conventional methods. This technique is less invasive resulting in less swelling and a shorter recovery time. One of the biggest benefits of the suture method is that the results closely resemble a natural eye fold.


Anaesthesia
Local anaesthesia

Hospitalisation
Day Surgery

Incisional Upper Blepharoplasty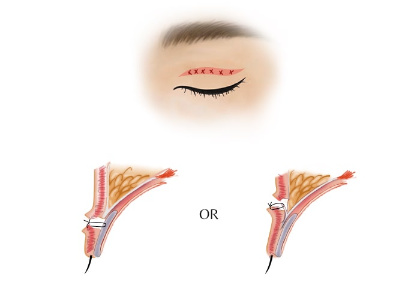 For those with sagging upper eyelid skin, the incisional technique will more effectively lift the eyelid by removing excess eyelid skin. The scars in this technique are nestled inconspicuously in the double eyelid creases. Though there is some scarring with the incisional method and it often takes a little longer to heal, this method can often be more precise.


Anaesthesia
Local anaesthesia

Hospitalisation
Day Surgery

Ptosis Correction

For patients with droopy eyelids, eyes that may appear tired, sleepy or small, ptosis correction surgery can also provide an eye lift. In some advanced cases, patients with ptosis can have medical symptoms such as visual obstruction, fatigue and headaches. In these cases, the surgery may be covered by health insurance. Ptosis correction surgery can be performed using the suture or incisional technique.

Procedure Time
1 - 2 hours

Anaesthesia
Local anaesthesia

Hospitalisation
Day Surgery

Pros and Cons of Suture vs Incisional Approach
The two primary approaches to upper eyelid surgery each have some pros and
cons that your plastic surgeon will discuss with you.
Suture Approach
Scarless and less invasive
Quicker healing and recovery
Can be a less precise procedure
Incisional Approach
Minimal scarring that can be hidden
Longer recovery and more swelling
A more precise procedure
What To Expect During Upper Eyelid Surgery?

Many upper eyelid surgeries are performed as outpatient procedures using local anaesthesia, allowing patients to remain awake during the operation. A small injection at the surgical site numbs the area within seconds, and the procedure commences once you're ready.

To ensure patient comfort and relaxation, a mild sedative may be administered alongside local anaesthesia. The use of local anaesthesia also enables patients to actively respond to the surgeon, facilitating optimal results. Upper eyelid surgeries, depending on their complexity, usually last between 45 minutes and 2 hours.

During the procedure, you might be seated to assess symmetry. Afterward, you'll be monitored for approximately an hour to manage pain and identify any immediate postoperative complications. We prioritise your comfort, safety, and satisfaction at all times. While your vision won't be impaired by the procedure, we recommend having a responsible person accompany you upon discharge.
Surgeries often done together with upper blepharoplasty for more eyelid enhancement:
Epicanthoplasty
Brow lift
Lower blepharoplasty
Laser eyelid rejuvenation
Bright eye treatment
Personalised Eyelid Treatment with Genuine Care
Upper Eyelid Surgery FAQs
Astrid Upper Eyelids Surgery Reviews
I am really really satisfied with Dr Jonah's double eyelid surgery. After surgery I keep looking my eyes in the mirror all the time. My boyfriend said " before surgery, I did always look at his face when I woke up in every morning, but after surgery, every time I wake up, I look at my eyelids first in the mirror instead of looking at my bf's face."
Dr Jonah Kua came highly recommended by a girl friend who had her blepharoplasty or upper eyelid surgery done by him. In the beginning, I was skeptical and nervous about the procedure but Dr Jonah Kua allayed my fears with his professionalism and knowledge. I also had slight ptosis in my left eyelid and this was eliminated during the procedure. Swelling was minimal and resolved itself within the next couple of weeks. The scars from the blepharoplasty healed well without any complication. I am pleased with the overall results. Dr Jonah Kua did a clean and fantastic job. I have since recommended a few friends to him and they are all pleased with their results too.
I consulted Dr Jonah Kua for suturing blepharoplasty as he is highly recommended by my friends who had gone through double eyelid surgery. Their eyelids look so natural and good after being operated by him. After several consultations with him, I found him to be very assuring, patient, meticulous and responsible surgeon. He never rush through consultations and took the time to assess my eye anatomy and advised me accordingly to my face structure. He is someone who listen to patient's needs and show genuine concern for his patients. Before leaving his room, he would always ask if i have any question. He strikes me as perfectionist doctor and ensure my eyelids are done beautifully. Post op 6 days, even my hairdresser complimented on his good surgical skills as my eyes look natural and wanted his name card. My eyes are more open and lively now, I am happy and confident with my new eyelids. Can consider Dr Jonah Kua if you need aesthetic procedure to enhance your beauty, highly recommend
Read More On Upper Eyelid Surgery
Astrid Plastic And Reconstructive Surgery
3 Mount Elizabeth #13-07
Mount Elizabeth Medical Centre
Singapore 228510
T / +65 6530 3573
HP / +65 8764 9219
Astrid
Plastic Surgery
10 Sinaran Drive #11-22
Novena Medical Center
Singapore 307506
T / +65 6273 0062
HP / +65 8764 9219
Copyright @ 2023. Astrid Plastic Surgery