Breast Augmentation in Singapore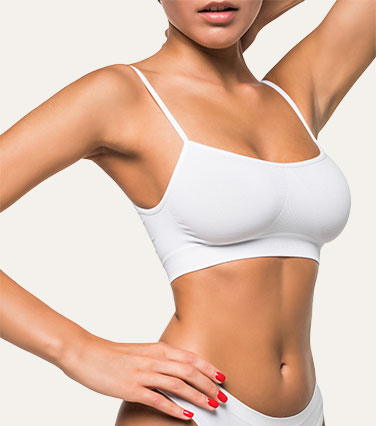 Why Choose Astrid for Breast Augmentation
At Astrid, our doctors are one of the earliest surgeons selected to perform Motiva Breast Augmentation and are experienced in using Motiva Breast Implants for many years.
Our technique gives

MinimalScar®

, less pain and shorter downtime.

Vectra 3D-simulation

helps patients to visualise their outcome and select their implants.
Postoperative scar treatments available to minimise scarring.
What is Breast Augmentation?
Breast augmentation refers to increasing breast size or shape to create a more desirable appearance. In addition to a more contoured figure, breast augmentation offers benefits such as improved clothing fit and enhanced self-confidence.
Women choose to have breast augmentation surgery to enhance their breasts, or to restore them, especially after experiencing deflation after breastfeeding or weight loss.
Commonly, breast augmentation is performed using implants, fat transfer or a combination of both.
Types of Breast Augmentation
Implant-Based Breast Augmentation
Implant-based breast augmentation involves positioning a silicone breast implant in an appropriate pocket beneath the breast, providing increased volume while minimising visible scarring. This procedure is typically conducted as outpatient surgery under general anaesthesia accompanied by sedation.
The use of the latest 6th generation silicone Motiva breast implants maximises the safety, aesthetics and natural feel for women considering breast augmentation.
With the advent of Motiva implants, patients can now expect a short scar measuring 2.5 to 3 cm. The MinimalScar® approach is made possible with our specialised surgical technique, innovative surgical tools and the advanced features of Motiva breast implants- their unmatchable flexibility and durability. This means a more natural result, less pain, minimal scar and shorter downtime. We also offer breast implant replacement surgery if necessary.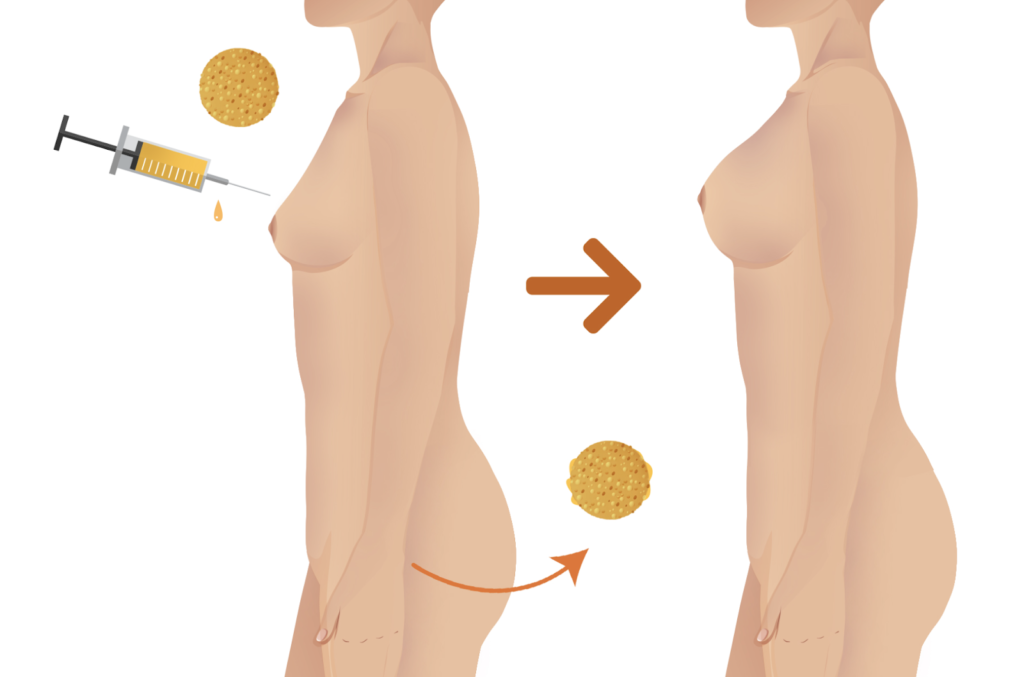 Fat Grafting to the Breast
Fat grafting to the breast is an alternative method of breast enhancement that utilises your own tissue. Fat is extracted from areas with excess using liposuction techniques, and the aspirate is then purified to retain fat cells, stem cells, and growth factors.
These components are then injected into the breast at the optimal depth to maximise aesthetic results and fat retention, which typically ranges from 50-70%.
As the procedure uses your own fat, the results are entirely natural and feel like your own breast tissue.
However, there is a limit to the amount of fat graft your breast can accommodate before the fat retention rate declines. Depending on your desired breast size, multiple fat grafting sessions may be necessary.
Hybrid Breast Augmentation
Hybrid breast augmentation refers to the use of both implants and fat transfer in the same operation to enhance the breast shape. There are some situations when breast implants alone cannot effectively achieve the ideal contour. Fat grafting is used as an adjunct to correct imperfections.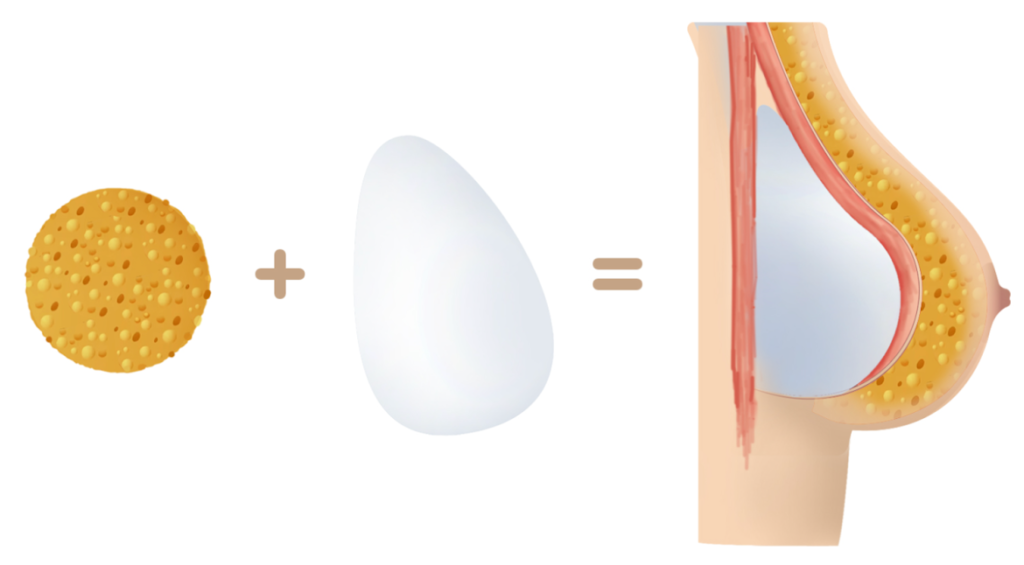 While the implant contributes to the increased volume, fat transfer enhances soft tissue coverage around the implant, reducing the likelihood of rippling and implant visibility.
Types of Breast Incisions
Whether you opt for implant-based breast augmentation or hybrid breast augmentation, there are a few different incisions that can be utilised: IMF (inframammary fold), periareolar (around the areola), or transaxillary (via the armpit):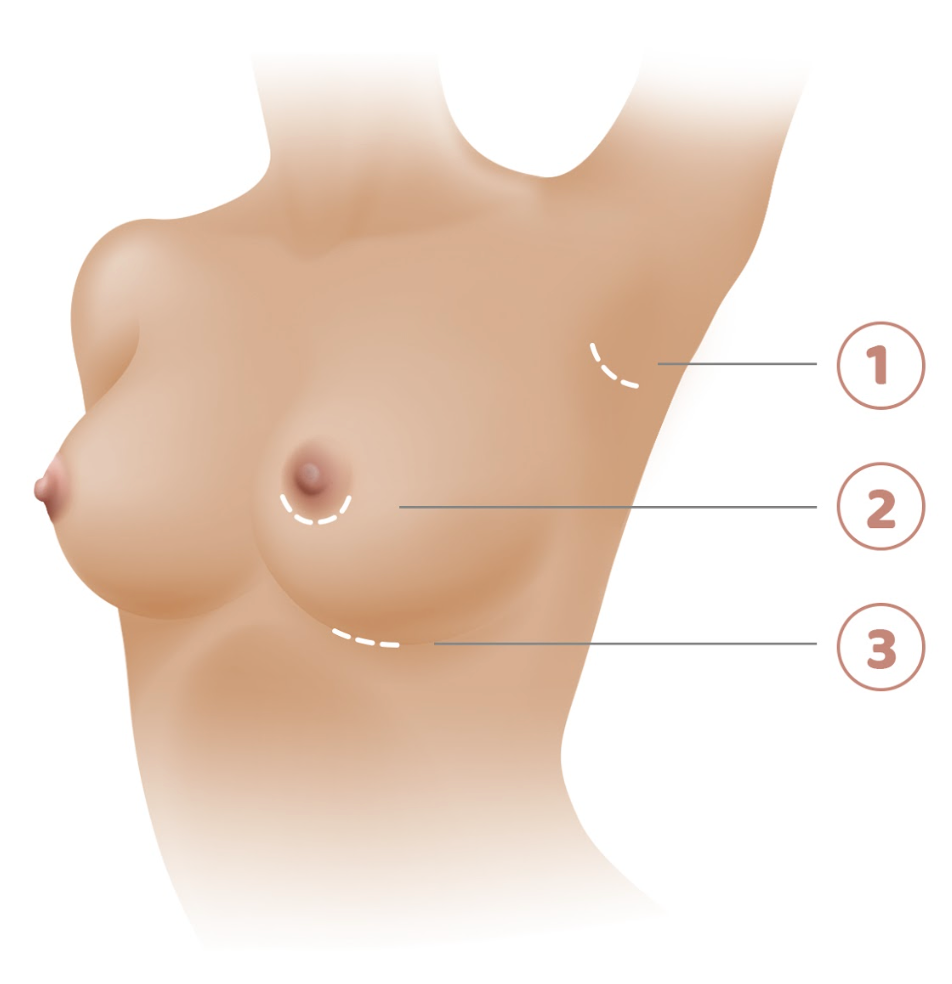 1. Transaxillary Approach
Scar hidden in armpit
Difficult to perform additional / secondary surgeries
2. Periareolar Approach
Scar hidden between areola and skin
Not suitable for patients with smaller areolas
3. IMF Approach
Often blends in with natural inframammary fold
Fastest procedure
Minimal scarring
Visualise Results with Vectra 3D-Simulation
Your visual understanding is directly linked to your ability to make informed decisions. While traditional before-and-after photos can offer a glimpse of breast augmentation results, they cannot precisely represent outcomes on your unique body.
Our 3D simulation system considers your specific measurements, allowing you to accurately preview your appearance from various angles using different implant shapes and sizes. The advanced technology captures high-resolution images of your breasts, enabling detailed visualisation of your augmentation results.
This innovative tool facilitates side-by-side comparisons of diverse implant sizes on your distinct frame from any perspective, allowing you to confidently select the type of implant or surgery approach that best aligns with your objectives, without solely relying on your surgeon's choice for you.
What To Expect After a Breast Augmentation Procedure?

Following the procedure, you'll be briefly monitored before being discharged. Incision sites will have dressings, and a support garment will be provided. Drains are rarely necessary, and stitch removal is typically not needed.

Expect some pain, swelling, and bruising during the first week, which can be managed with medications. A clinic follow-up will occur within the first few weeks, during which you should carefully tend to your incisions and refrain from strenuous activities.

Gradually, you can start light exercise, resuming full activity 4 to 6 weeks post-procedure. At this point, you can probably wear a regular bra, but it's advisable to avoid any strong impact on the chest to prevent implant rupture.
Breast Augmentation Often Done With
Surgeries often done together with breast augmentation to maximise breast aesthetics:
Nipple reduction surgery
Removal of axillary breast
Breast fat grafting (lipofilling)
Mastopexy (breast lift)
Personalised Breast Treatment with Genuine Care
Astrid Breast Augmentation Review
I did my 1st breast augmentation few years back in Thailand the result was really bad and out of shape. Dr. Jonah is very experienced with breast augmentation he help me to reposition its. My consultation was quite long but it was very informative. I did a lot of online research and went to a few clinics before making my decision. Initially, he wasn't on my list. Now I would say I'm really very glad that I chosen Dr Jonah for my breast augmentation. I am very happy with the result.
Read More On Breast Augmentation
Astrid Plastic And Reconstructive Surgery
3 Mount Elizabeth #13-07
Mount Elizabeth Medical Centre
Singapore 228510
T / +65 6530 3573
HP / +65 8764 9219
Astrid
Plastic Surgery
10 Sinaran Drive #11-22
Novena Medical Center
Singapore 307506
T / +65 6273 0062
HP / +65 8764 9219
Copyright @ 2023. Astrid Plastic Surgery